Attention!
Tired of seeing ads while studying? Now you can enjoy an "Ads Free" version of the site for as little as 10¢ a day and support a great cause!
Click here to learn more!
Bible Commentaries
Dr. Constable's Expository Notes
Old Testament
New Testament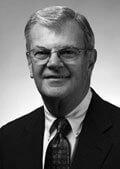 Dr. Thomas L. Constable
Dr. Thomas Constable graduated from Moody Bible Institute in 1960 and later graduated from Dallas Theological Seminary.

Dr. Constable is the founder of Dallas Seminary's Field Education department (1970) and the Center for Biblical Studies (1973), both of which he directed for many years before assuming other responsibilities.

Today Dr. Constable maintains an active academic, pulpit supply, and conference-speaking ministry around the world. He has ministered in nearly three dozen countries and written commentaries on every book of the Bible.

Dr. Constable also founded Plano Bible Chapel, pastored it for twelve years, and has served as one of its elders for over thirty years.
Lectionary Calendar
Sunday, December 5th, 2021
the Second Week of Advent