Lectionary Calendar
Monday, December 11th, 2023
the Second Week of Advent
Attention!
For 10¢ a day you can enjoy StudyLight.org ads
free while helping to build churches and support pastors in Uganda.
Click here to learn more!
Bible Dictionaries
Wace's Dictionary of Early Christian Biography
Browse by letter: D
Dalmatius, Monk and Abbat
Damasus, Pope
Damianus
Daniel, the Stylite
Dativus, Celebrated Senator
David, Welsh Saint
Decius, Emperor
Demetrias, Roman Virgin
Demetrius
Demophilus
Dianius, Bishop of Caesarea
Didymus, Head of the Catechetical School
Dimoeritae, Followers of Apollinarius
Dinooth, Dinothus, Abbat of Bangor Iscoed
Diocletian, Emperor
Diodorus, Presbyter of Antioch
Diognetus, Epistle to
Dionysia (1), Virgin Martyr at Lampsacus
Dionysia, Martyr at Alexandria
Dionysia, Martyr in Africa
Dionysius (19), Monk in Western Church
Dionysius (3), Bishop of Corinth
Dionysius (7), Bishop of Rome
Dionysius of Alexandria
Dionysius, Pseudo-Areopagita
Dionysius, Saint, Apostle of France
Dioscorus (1), Patriarch of Alexandria
Dioscorus, the Monk
Docetism
Domitianus, the Emperor
Domitilla Flavia
Domnus I, Bishop of Antioch
Domnus II, Bishop of Antioch
Donatus and Donatism
Dorothea, Virgin Martyr
Dorotheus (10), Bishop of Thessalonica
Dorotheus (3) Presbyter of Antioch
Dorotheus (7), Bishop of Martianopolis
Dositheus (1), Leader of Jewish Sect
Dubhthach, King's Poet
Dubricius, Dubric, Archbaptist of Caerleon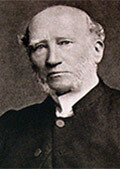 Henry Wace
Welcome to the 'Wace's Dictionary of Early Christian Biography', one of the dictionaries resources FREELY available on StudyLight.org!
Containing 929 entries cross-referenced and cross-linked to other resources on StudyLight.org, this resource can be classified as a required reference book for any good study library.
Designed to render to a wider circle, alike of clergy and of laity, the service which, as is generally admitted, has been rendered to the learned world by The Dictionary of Christian Biography, Literature, Sects, and Doctrines, published under the editorship of Dr. Wace and the late Dr. Wm. Smith, about twenty years ago, in four large volumes.
All scripture references and reference to other entries within the text have been linked. To use this resource to it's full potential, follow all the links presented within the text of the entry you are reading.
StudyLight relies on cutting-edge technology to enhance your experience through our 'AutoSuggest' feature. To activate this feature you must be using: Apple Safari, Google Chrome, Firefox, Opera and Microsoft Edge or a more recent version of any of these. This feature allows you to start typing your query in the search box. Beginning with the second letter typed, our system will display a drop-down list of suggestions that are found in this resource. Click an entry displayed in the drop-down box and then the 'find' button to view that entry.
If you find a link that doesn't work correctly, please use our convenient contact form. Please tell us the reference work title, entry title and/or number (this can be found in the address line), and a brief description of the error found. We will review and make corrections where needed.
You can also use this form if you have any suggestions about how to improve the usability of this resource.