Lectionary Calendar
Wednesday, October 4th, 2023
the Week of Proper 21 / Ordinary 26

Bible Commentaries

Bullinger's Companion Bible NotesBullinger's Companion Notes
Old Testament
New Testament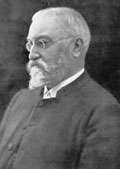 E.W. Bullinger
Ethelbert William Bullinger AKC (December 15, 1837 - June 6, 1913) was an Anglican clergyman, Biblical scholar, and ultradispensationalist theologian.

He was born in Canterbury, Kent, England, the youngest of five children of William and Mary (Bent) Bullinger. His family traced their ancestry back to Heinrich Bullinger, the Swiss Reformer.

His formal theological training was at King's College London from 1860-1861, earning an Associate's degree. After graduation, on October 15, 1861, he married Emma Dobson, thirteen years his senior. He later received a Doctor of Divinity degree in 1881 from Archibald Campbell Tait, Archbishop of Canterbury who cited Bullinger's "eminent service in the Church in the department of Biblical criticism."

Bullinger's career in the Church of England spanned 1861 until 1888. He began as associate curate in the parish of St. Mary Magdalene, Bermondsey in 1861, and was ordained as a priest in the Church of England in 1862. He served as parish curate in Tittleshall from 1863-1866; Notting Hill from 1866-1869; Leytonstone, 1869-1870; then Walthamstow until he became vicar of the newly established parish of St. Stephen's in 1874. He resigned his vicarage in 1888.

In the spring of 1867, Bullinger became clerical secretary of the Trinitarian Bible Society, a position he would hold till his death in 1913. Bullinger was editor of a monthly journal Things to Come subtitled A Journal of Biblical Literature, with Special Reference to Prophetic Truth. The Official Organ of Prophetic Conferences for over 20 years (1894-1915) and contributed many articles.