Attention!
Partner with StudyLight.org as God uses us to make a difference for those displaced by Russia's war on Ukraine.
Click to donate today!
Standing with Ukraine
Partner with StudyLight.org as God uses us to make a difference
While the Russian army continues to shell city after city in Ukraine, millions of people have been looking to escape. The humanitarian crisis that continues to worsen is overwhelming the neighboring countries.
Poland, the country where my family and I have lived and served for the last 22 years, has taken in over two million refugees. Nearly all of those arriving are women and childen. The cost to support and care for our displaced neighbors is overwhelming.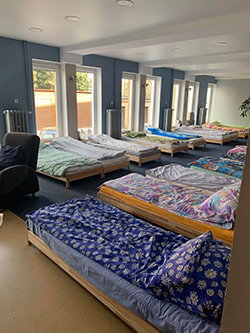 Former pre-school room in 1st Baptist
Christians from all over the country have mobilized to help feed, clothe and shelter our guests. We have opened our hearts, homes and wallets but it is not enough. Even if the conflict were to end tomorrow it will still be many months, possibly years before it is safe for most of them to return. Some may not have anything to which they can return. Therefore, we are preparing for the long term care and we need your financial help.
As an example, First Baptist Church in Gdansk is housing 65 women and children. Even at $5.00 a day for food (which isn't even enough), it will cost over $9,000 a month just for food. This does not include the cost of utilities.
This is why I am asking you, my Christian brothers and sisters, to give from the heart so together we can provide for their needs. Donations will help in multiple ways.
To support the women and children who are arriving daily. With more and more heading for the Polish border we are trying to take care of as many as we can. This will include: housing, food, medicine, baby formula, diapers, legal help, etc.

To support those we know of who have remained in the country caring for the elderly who are unable to flee. There are many elderly people in the country side who either are unable to travel or refuse to. A number of pastors we have worked with in the last fifteen years have stayed behind to take care of them. We are providing them with much needed finances.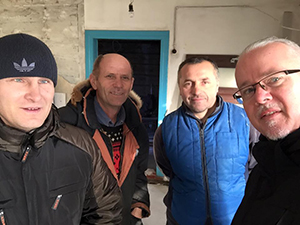 With friends from Volhynia region of Ukraine.
We have been working with individuals and local churches in Ukraine for the past 15 years. We have attended funerals, weddings and baptisms. We have laughed and cried with our Ukrainian friends. Starting in 2013 we coordinated a Vacation Bible School (VBS) program with the church in Roznychi, Ukraine. Along with 10 friends from our local church we worked with 50+ children. In 2019, our last year before COVID, we had 70+ Polish Christians and we did a VBS program for over 700 children in 7 different locations. In January we had begun to discuss returning this summer but those plans are on hold due to the Russia invasion.
StudyLight.org is a registered company in Poland. Therefore, we are unable to provide a tax receipt. However, 100% of the money we receive goes directly to the many churches and organizations we know and work with in Poland and Ukraine.
The following have received money from your generosity.
Lectionary Calendar
Monday, May 23rd, 2022
the Sixth Week after Easter