Attention!
15 million Ukrainian are displaced by Russia's war.
Millions miss a meal or two each day.
Help us change that!
Click to donate today!
Historical Writings
Church and Denominational History
Writings of Rev James MacCaffrey
This two volume collection explores the history of the Catholic Church from the Renaissance to the French Revolution.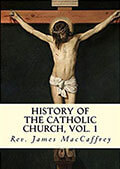 Rev James MacCaffrey
Monsignor James MacCaffrey STL, PhD (1875-1935) was an Irish priest, theologian and historian.
Monsignor MacCaffrey was born in 1875, at Fivemiletown, Co. Tyrone, he was the son of Francis MacCaffrey of Alderwood, Clogher, Co. Tyrone. He was educated at St. Macartan's Seminary, Monaghan, before going to St. Patrick's College, Maynooth, and was ordained there in 1899.
He was awarded a Doctorate by the University of Freiburg. At Maynooth he went on to serve as Professor of Ecclesiastical History from 1901, vice-president (1915-1918) and president of the College from 1918 until 1935.
A noted historian Dr. MacCaffrey edited the early editions of the Historical Journal published in Maynooth Archivium Hibernicum. Monsignor MacCaffrey also served as Pro-Vice-Chancellor of the National University of Ireland He died on 1 November 1935 while still president of Maynooth.
Lectionary Calendar
Sunday, June 26th, 2022
the Week of Proper 8 / Ordinary 13