Attention!
15 million Ukrainian are displaced by Russia's war.
Millions miss a meal or two each day.
Help us change that!
Click to donate today!
Historical Writings
Church and Denominational History
Writings of James Craigie Robertson
A two volume work, by Reverend J.C. Robertson, giving an overview of the history of the Church from the death of Christ to the Reformation.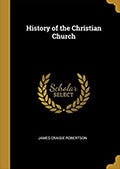 James Craigie Robertson
James Craigie Robertson (1813 - 9 July 1882) was a Scottish Anglican churchman, canon of Canterbury Cathedral, and author of a History of the Christian Church.
Robertson was born at Aberdeen, where his father was a merchant; his mother's maiden name was Craigie. His early education was mainly at Udny Academy, but he is said to have been at twelve other schools. His father was a Presbyterian, but his mother's family was Episcopalian.
Robertson studied for a time for the Scottish bar, but having decided on ordination in the Church of England, he entered Trinity College, Cambridge in 1831, and graduated B.A. in 1834, and M.A. in 1838. He did not attempt to take honours, but spent vacations in Germany, and studied German literature. He was ordained in 1836.
After serving two curacies, Robertson was instituted in 1846 to the vicarage of Bekesbourne, near Canterbury. There he concentrated on historical research. In 1859 he was made canon of Canterbury, and from 1864 to 1874 was professor of ecclesiastical history at King's College, London. In 1864 he was elected a member of the AthenŠ Club as "a person eminent in literature".
Robertson died at Canterbury on 9 July 1882, while working on the last volume of his "Memorials of Becket". He was a moderate high churchman, out of sympathy with ritualism. Close friends included William MacPherson, John Murray III the publisher, Dean Stanley, and Alexander Dyce; and he knew Alfred Tennyson well.
Lectionary Calendar
Sunday, June 26th, 2022
the Week of Proper 8 / Ordinary 13