Bible Commentaries

Haydock's Catholic Bible CommentaryHaydock's Catholic Commentary
Old Testament
New Testament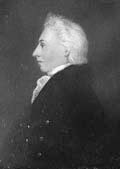 George Leo Haydock
George Leo Haydock (1774-1849), scion of an ancient English Catholic Recusant family, was a priest, pastor and Bible scholar. His edition of the Douay Bible with extended commentary, originally published in 1811, became the most popular English Catholic Bible of the 19th century on both sides of the Atlantic. It remains in print and is still regarded for its apologetic value.

His eventful early years included a narrow scrape with the French Revolution and a struggle to complete his priestly studies in the years before Catholic Emancipation. He would go on to serve poor Catholic missions in rural England.

Haydock's first assignment was at Ugthorpe, Yorkshire, a poor rural mission. While there, Father Haydock completed the work for which he would be best remembered: commentary for a new edition of the English Catholic Bible. That Bible was called the Douay Version (Douay-Rheims Bible), originally translated from the Latin Vulgate in the 16th century chiefly by Gregory Martin, one of the first professors at the English College, Douai (University of Douai). It was revised and newly annotated in the 18th century by Richard Challoner (1691-1781), a scholar at University of Douai and then Vicar Apostolic of the London District, and later by Father Bernard MacMahon (1736?-1816). Haydock took his text from the Challoner-MacMahon revision, but added a substantially extended commentary. This commentary was partly original and partly compiled from Patristic writings and the writings of later Bible scholars. The Bible had long been used to advance the Protestant cause. However, Catholics used it effectively in their counteroffensive. As Haydock states in his Preface, "To obviate the misinterpretations of the many heretical works which disgrace the Scripture, and deluge this unhappy country, has been one main design of the present undertaking."

2011 is the bicentennial anniversary of the Haydock Bible. Its substantial and continuing popularity is reflected in its long history of varied editions. It would remain continuously in print until at least 1910 with a long series of publishers in England and America, and would enjoy a renewal of interest at the end of the 20th century, spurring a new series of reprints and modern digital reproductions. Present day Traditional Roman Catholics who see uncertainty of purpose in the post-Conciliar Church have found inspiration in the English Catholic Recusant movement and in Father Haydock's confident expression of Faith.