Bible Commentaries

Ellicott's Commentary for English ReadersEllicott's Commentary
Old Testament
New Testament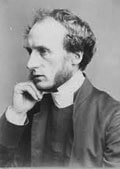 Charles John Ellicott
Charles John Ellicott, compiler of and contributor to this renowned Bible Commentary, was one of the most outstanding conservative scholars of the 19th century. He was born at Whitwell near Stamford, England, on April 25, 1819. He graduated from St. John's College, Cambridge, where other famous expositors like Charles Simeon and Handley Moule studied. As a Fellow of St. John's, he constantly lectured there. In 1847, Charles Ellicott was ordained a Priest in the Church of England. From 1841 to 1848, he served as Rector of Pilton, Rutlandshire. He became Hulsean Professor of Divinity, Cambridge, in 1860. The next three years, 1861 to 1863, he ministered as Dean of Exeter, and later in 1863 became the Lord Bishop of Gloucester and Bristol.

Conspicuous as a Bible Expositor, he is still well known for his Critical and Grammatical Commentaries on Galatians, Ephesians, Philippians, Colossians, Thessalonians and Philemon. Other printed works include Modern Unbelief, The Being of God, The History and Obligation of the Sabbath.

This unique Bible Commentary is to be highly recommended for its worth to Pastors and Students. Its expositions are simple and satisfying, as well as scholarly. Among its most commendable features, mention should be made of the following: It contains profitable suggestions concerning the significance of names used in Scripture.